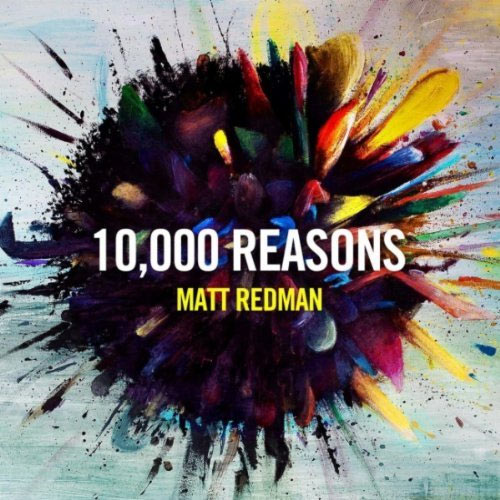 Genre: Worship/Live
Rating: 4/5 Stars
Matt Redman is known worldwide for the significant impact he has made in modern worship. The songs he has written, which include "Blessed Be Your Name" and "You Never Let Go," are sung in most churches around the world. His most recent songs include "Our God," which was nominated for a Grammy Award, and he is a co-founder of the Passion City Church. Redman returned from his home in the UK to Atlanta, Georgia to record his live album 10,000 Reasons. The live performance took place in February 2011 during LIFT: A Worship Leader Collective, a large gathering of worship eaders.
10,000 Reasons begins on a strong note with "We Are The Free" which is an upbeat song that declares he fire in our hearts for God and the glory of the Lord. It is followed by the slower "Here For You" with lyrics that shout praises to God. In the second verse, Redman sings, "Let our shout be Your anthem." This line seems to send a message of us being God's nation and even His army, and it is very exciting to hear sung.
The topic of God's glory is carried on to "Holy", Redman"s favorite song on the record, which proclaims Jesus' holiness and power, calling Him "God most holy and God most worthy." During the
song, the question is asked "Who shall we say You are?" The question is answered with "the Living God…the Great I Am…You"re all You say You are." The title track, "10,000 Reasons (Bless the Lord)," contains music that involves a lot of piano, including an entirely piano intro. It is a great song of worship, and the title comes from a line in the middle of the song when Matt Redman sings, "For all Your goodness, I will keep on singing. Ten thousand reasons for my heart to find."
"Fires" is another upbeat song that sends a call to God to "light up our lives with Holy flame!" It also tells of how God gives us strength and that we are to honor Him through that flame He puts in us. The first radio single from the album will be "Never Once" which is one of the most hopeful and encouraging songs on the entire album. The chorus has the beautiful lyrics "Never once did we ever walk alone. Never once did You leave us on our own. You are faithful. God, You are faithful." This song is one that we should all hear as it is a great reminder of God"s promise that He will never leave us and is with us always. "Where Would We Be" speaks of Jesus"s love for us and how if He had not loved us enough to die for us on the cross, we would all be lost. It ends with the words "Jesus, You're the only hope…for all the world."
Again, Matt Redman raises the tempo with "We Could Change the World," a song in which he acknowledges how much greater God is than any of our ways or faults. He is wiser, more powerful, and stronger than anything else, and in His name "we could change the world." "Magnificent" has a similar theme and is about how magnificent our Lord is. "O This God" is a proclamation that we will trust in the Lord, even when we go through tough times. As the song states, "O this God is our God, even til the end." 10,000 Reasons ends with "Endless Hallelujah" which starts off on a soft tempo, but grows gradually stronger. Matt Redman creates a picture of how it will be like when the world has ended and all believers are in heaven with the Lord. There will be no more pain or sorrow and we will worship God with "an endless hallelujah to the King."
10,000 Reasons focuses mainly on the theme of God's power, faithfulness, and magnificence. As Matt Redman says, the albums songs are full of hope. "There will be things [in our lives] that discourage or confuse, but we're also waking up under the promises of God, and [quoting Charles Spurgeon] "the future is as bright as the promises of God." Redman is known for writing great worship songs, and this album is filled with them; do not be surprised to see some of them sung in churches. In short, Matt Redman does not fail to give us a strong package of worship music in 10,000 Reasons, an album made to encourage us and to praise the Lord, and one that all fans of worship music will enjoy!
TOP 3 SONGS
We Are The Free
Never Once
O This God
TRACK LISTING
We Are The Free
Here For You
Holy
10,000 Reasons
Fires
Never Once
Where Would We Be
We Could Change the World
Magnificent
O This God
Endless Hallelujah
Review brought to you courtesy of Christianmusicreview.org. Go
here
to read the original copy of it.